RICOH THETA V- Overview
A camera that can shoot 360-degree spherical images in a single shot.
- High-resolution 360-degree spherical still images and video
- 4K compatible high resolution 360-degree video
- 360-degree spatial audio recording
- 3 axis gyro sensors and 3 axis acceleration sensors
- High-speed data transfer
- Support for 4K 360-degree live streaming output
- Bluetooth and wireless LAN dual communication
- 19 GB Internal memory
- "Remote Playback" to enjoy 360-degree image on a large screen monitor
- Functions can be added using plug-ins
- Underwater housing that is waterproof up to a depth of 30 meters (equivalent to JIS Class 8 waterproof standard) to achieve 360-degree underwater shooting
Description
Bringing innovation to the imaging experience.
Record and recreate the real world in 360 degrees.
Resolution has been further improved and high quality image delivers a more natural three-dimensional experience and coloring. 360 degrees spatial audio lets you record sound from all directions. Realistically record images and audio of the world surrounding you as far as the eye can see to recreate inspiring moments.
High-quality image

High-quality 360 degree still images equivalent to 14M
Record high-resolution, 360 degree still images equivalent to 14M output pixels. A completely new algorithm delivers low-noise, high-resolution, and high-quality images from low to high sensitivity.

4K video shooting NEW

4K/30 fps high-quality videos
Video performance has been significantly improved, making 4K (3840x1920, 56Mbps), 30 fps high-resolution 360 degree shooting possible. Enjoy recording realistic spherical images.*1

*1 The resolution of recording data is 4K (3840x1920). The resolution of the spherical video viewed varies depending on the display quipment of the magnification ratio

360゜spatial audio NEW

Record 360゜spatial audio with a 4-channel microphone
New VR (virtual reality) compatible spatial audio technology is adopted to this model. Enjoy a completely new, realistic experience with linked video and audio.
High-speed readout image sensor NEW

Two 1/2.3-type image sensors provide high-speed image data readout. An image sensor is included which delivers high-quality spherical video.

Main processor NEW

The Qualcomm(R) Snapdragon(TM) is used as a main processor. It delivers a variety of improvements including faster image processing and wireless transfer speed, and power saving capabilities.

High-performance 4-channel microphone NEW

Four built-in microphones make it possible to record audio independently from four directions. This is then converted to a format that recreates natural 360゜spatial audio.



Exclusive external 3D Microphone TA-1 (Optional) NEW

This is a four-direction, 360゜spatial audio microphone designed specially for the THETA V. Use it to record even higher quality audio with a more realistic feel.

See further details on the accessory page
New functions for further possiblities in spherical camera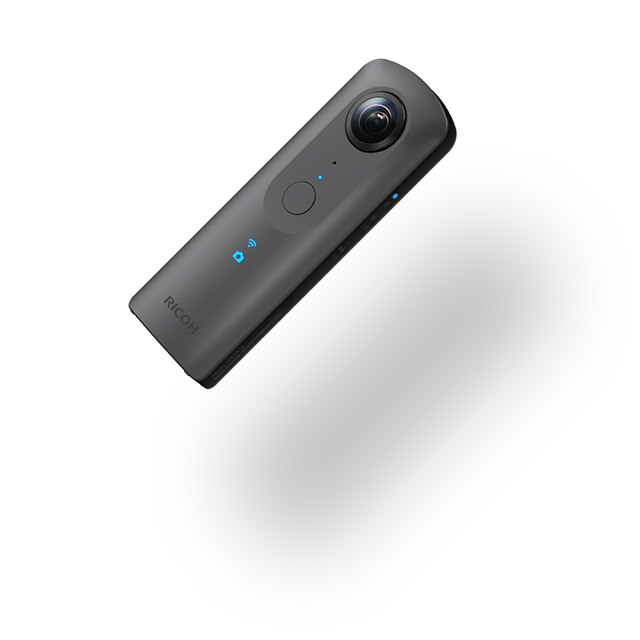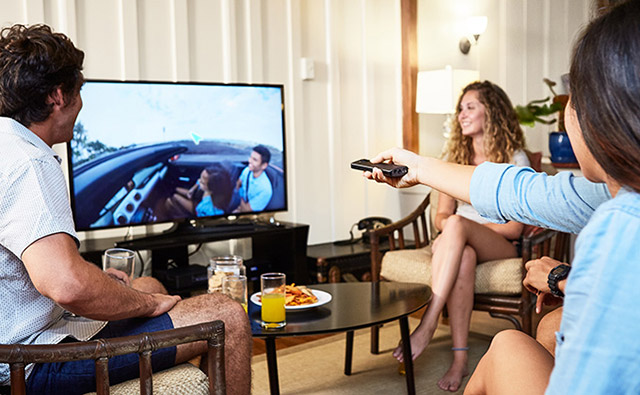 World's first*2 Remote Playback*3

Image data recorded on THETA V can be played back in 360 degrees on a monitor such as TV. The THETA V
also functions as a remote control which can be used to select the image file and move displayed 360
degree image up, down, left, and right. It can also zoom-in and out
*2 As a consumer-oriented spherical camera (According to Ricoh research).
*3 Other devices are required, including the separate wireless display adapter.
High sensitivity of ISO 3200/6400 NEW

Enjoy high-sensitivity shooting from ISO 3200 (still images) to ISO 6400 (videos, live streaming). This range of sensitivity is highly effective for shooting in dark scenes.

Underwater Housing TW-1 (Optional) NEW

This is an authentic waterproof housing with JIS Class 8 equivalent protection class for shooting underwater to 30 m. The housing features AR anti-reflective coating and dirt-resistant coating.

1/2500 seconds shutter speed

The shutter speed can be set in a range from 1/2500 to 60 seconds.
Type - Camera Type
Spherical camera
Sensor - Type
CMOS
Sensor - Effective Pixels

Output size: Approx. 14MP (2x 12MP)

Body - Height

130.6mm

Body - Width

45.2mm

Body - Depth

22.9mm (17.9mm*)

* Excluding lens section.

Body - Weight

Approx. 125g